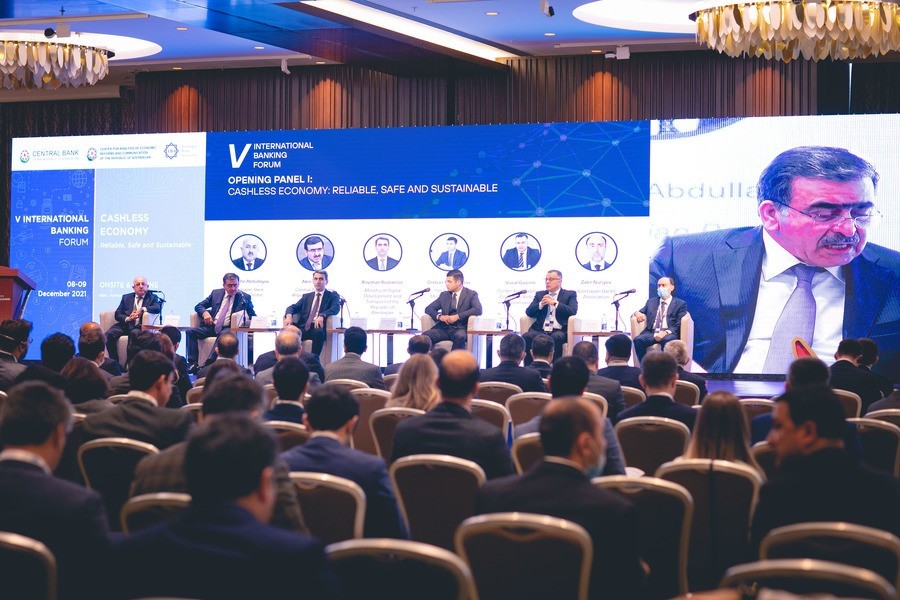 V INTERNATIONAL BANKING FORUM WAS HELD
The "V INTERNATIONAL BANKING FORUM", organized by the Azerbaijan Banks Association, was held on December 08-09, 2021.
"V INTERNATIONAL BANKING FORUM" organized by Azerbaijan Banks Association, Central Bank of Azerbaijan, Center for Analysis of Economic Reforms and Communication of Azerbaijan, and supported by Ministry of Digital Development and Transport of Azerbaijan, Small and Medium Business Development Agency of Azerbaijan with the subject of "CASHLESS ECONOMY: RELIABLE SAFE AND SUSTAINABLE" was accomplished successfully.
Two day Forum brought together representatives of related local and foreign state institutions, commercial banks, local and foreign businesses and public organizations, international financial institutions, foreign embassies in Azerbaijan, including more than 100 delegates from Turkey, United States, Europe, Japan, China, Korea, CIS and other countries.
The Forum consisted of seven Panels - "Cashless Economy: Reliable, Safe and Sustainable", "Digital and Remote Banking", "New Era Banking: Open Banking and Traditional Process Optimization", "Innovative Payment Ecosystem", "Digital Currencies", "Partnership or All in One: Local Online Banks", "New Normal: New Cyber Security Trends" - with over 40 speeches and presentations. Overall more than 1,000 participants attended the Forum.
Among the partners and speakers were representatives of the Central Bank of Turkey, Presidency of the Republic of Turkey, Central Bank of Russia, International Monetary Fund, International Finance Corporation, Google Pay EMEA, local banks, as well as Mastercard, BS/2, NBA Technologies, Fineksus, Ritmus, Forcerta, Azericard, Millicard, UPT, OneSpan, Colvir, HYOSUNG TNS, ATM Alliance, Discover, Diners Club, OpenWay, Whitebird, Azerbaijan Credit Bureau, Arter, GPolicy, Qiwi, Verifone Turkey, FARI Solutions, Digital Bank BRICS, Fuzzy Logic Labs, Global Innovations and other influential companies.
Besides, at the side events organized within the Forum more than 500 bank employees, entrepreneurs and students took part in about 10 seminars and webinars with the subjects of CBDC Concepts, Use and Regulation, New Electronic Signature Products, Fraud Cases in Digital Banking, Financial Literacy for Students, Advantages of the State Regıstry for Encumbrance of Movable Property, Innovative Approaches to Digital Banking and Customer Base Expansion, Green Finance, Cyber & Intelligence-Trends, Types of Attacks, Solutions, Innovation in Customer Experience, Implementation of Differentiated Offline Services for Customers of Different Segments.
---
Follow us on: