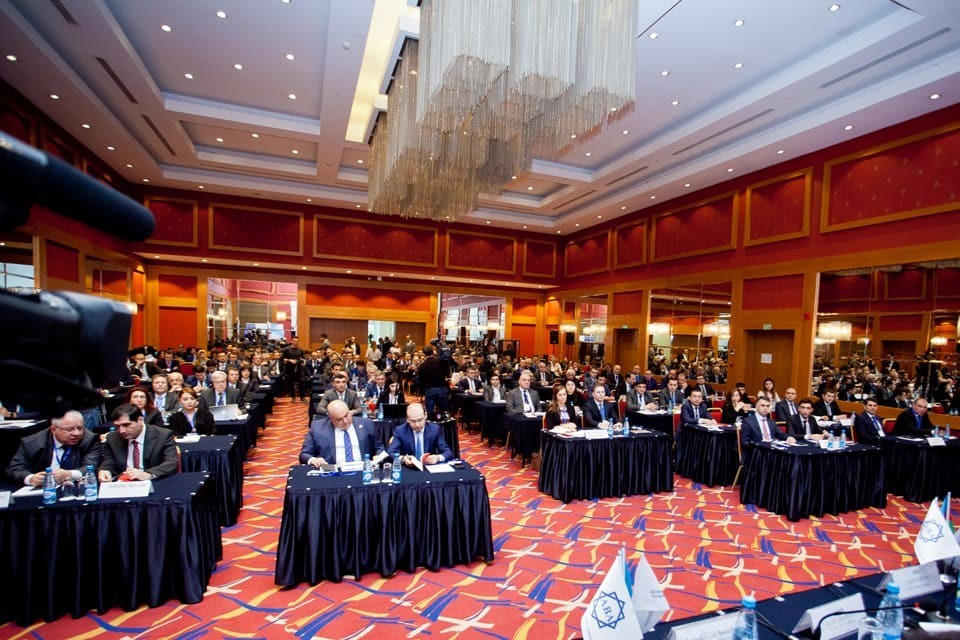 The Second Banking Forum has been finished
The Second Banking Forum, organized by the Azerbaijan Banks Association, was held at Park Inn Hotel on November 23-24, 2017.
On November 23-24, 2017 Azerbaijan Banks Association (ABA) in partnership with Center for Analysis of Economic Reforms and Communication, and Financial Markets Supervisory Authority of Azerbaijan held the Second Banking Forum on topic of "Adaptation of the banking system to the new development period: Reforms, Results and Challenges".
The purpose of the Forum was to analyze results of strategic economic reforms implemented in our country, study best practices of the adaptation of the banking system to the new development period, strengthening of financial sustainability, directions of the expansion of non-cash payments, discussion regarding the improvement of compliance in banks, directions of improvement of the legal basis of the development of the banking system, innovations in the banking system.
Senior management of regulatory and supervisory authorities on finance and economy, CEOs of commercial banks, heads of business and public organizations, representatives of international financial institutions and foreign embassies participated at the II Banking Forum.
President of Azerbaijan Banks Association Zakir Nuriyev made opening remarks at the II Banking Forum. Afterwards, executive director of Center for Analysis of Economic Reforms and Communication Vusal Gasimli, Chairman of Management Board of The Banks Association of Turkey Huseyin Aydin, Director of Central Bank of Azerbaijan Elman Rustamov, Chief Executive Officer of Financial Markets Supervisory Authority of Azerbaijan Ibrahim Alishov, Deputy Minister of Economy of Republic of Azerbaijan Sevinj Hasanova, Director of economic policy, industry and entrepreneurship committee of Milli Majlis Ziyad Samadzadeh gave a speech.
First module on the subject of "Minimization of the effect of foreign shocks and new challenges" started after opening speeches. During first module, presentations on subjects of "Short and mid-term results of the economic reforms", "Achievements in the improvement of the banking sector and outstanding targets: adequacy and efficiency of the regulation" , "Balance between monetary easing and macroeconomic stability: the role of the monetary policy in the transition to a the new development model", "The role of the State Oil Fund in the macroeconomic stability", "Development perspectives of the human resources of the banks in a new period" were made and detailed discussion on these topics was held.
---
Forum continued with next modules dedicated to "Towards non cash society: the latest trends in payments ecosystem, new market players and innovative payment solutions", "Compliance in modern banking" and "Development of legal base of banking system improvement".