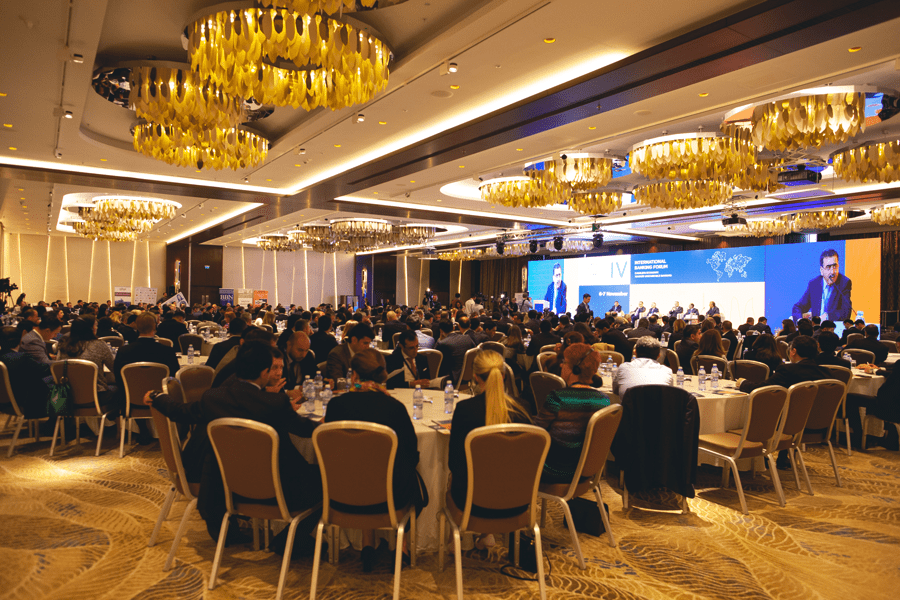 The IV International Banking Forum was completed succesfully
The "IV International Banking Forum - Cashless Economy: Towards Sustainable Banking", organized by the Azerbaijan Banks Association, was held at Boulevard Hotel on November 06-07, 2019.
Organized by Azerbaijan Banks Association and supported by Central Bank, Financial Markets Supervision Authority, Ministry of Transport, Communicationsand High Technologies and Center for Analysis of Economic Reforms and Communication, traditional event named "IV INTERNATIONAL BANKING FORUM – CASHLESS ECONOMY: TOWARD THE SUSTAINABLE BANKING" has successfully completed its work within the framework of "Cashless Society Days" which covered dates of on October 29 - November 08, 2019.
In this two day event related state institutions, commercial banks, directors of local and foreign businesses and public organizations, international financial institutions and representatives of foreign embassies in Azerbaijan, as well as delegates of up to 100 global organizations and prestigious companies from USA, Japan, Europe, China and CIS countries have participated.
Forum including 6 modules, has covered topics of:
Cashless economy: Achievements and Challenges;
Banking – Going Digital;
New Faces of Banking Transformation;
New Payment World;
Compliance and Regulatory Risks;
Regulation of Cashless and Digital Economy.
Note that, in modules discussions with more than 60 speakers were held and more than 1000 participants had joined.
Representatives of influential financial technology and related companies such as MasterCard, Cross, Oracle, BS/2, Zolotaya Korona, Tieto, Altair, Antaris, Azericard, Group-IB, Solanteq, ihs Teknoloji, 3D Bilişim, Colvir, Millikart Group, Dell, NBA Technologies International, Nice Actimize, НПА, Commerzbank, Terrasoft, PayPorter, Portmanat, SAS, Finanzgruppe, EFSE, Wallyt, S&P Global Ratings, Pafilia, Spektr Centre for Research and Development, Simbrella, Diebold Nixdorf, Polish Bank Association, RDTEX, FICO Tonbeller, Qulix, IDNT, Adecco, Alliance Factors, Koophub, Deloitte, Fintech Association, Ernst & Young, International Finance Corporation, PolishAPI, МИР, Пластик карта, НАПКА, Paynet, PwC, SWIFT, KPMG, Verifone, Finance in Motion, KUTVAN group, BaFin, National Bank of the Republic of Belarus, National Bank of Georgia, National Bank of Ukraine, Ashburn International were among participants and speakers, simultaneously AzerTurk Bank OJSC, Bank of Baku OJSC, Bank Respublika OJSC, Expressbank OJSC, Premium Bank OJSC, Rabitabank OJSC, TuranBank OJSC, Unibank CB OJSC took part as Bank partners of this Forum.
During "Cashless Society Days" trainings, seminars and "Meetup"s regarding cashless economy, digital payments and innovative solutions were organized for bank employees, journalists and students, as well as campaigns to encourage cashless payments were held.
---
In general, 15 events were organized within the framework of "Cashless Society Days". Belowmentioned presentations on various topics were made during the Forum.
6 november:
Alexey Shalin - How the financial industry is affected by AI and ML?
Dmitry Nazarov - Digital Banking: risks and opportunities for the CIS banks
Maxim Efimov - Mobile Payments and How They Change Traditional Banking
Ekaterina Kalinina - SWIFT GPI evolution
Alper Gul - New generation online cash registers
Cihat Mush - SAS for the New Generation Banking and Payments
Erol Ulu - Understand the Payments business as a banker to see the business opportunities
Evgeny Guschin - Digital back office – automate the core of your bank
Farid Guliyev - Digital and remote banking – the reality of today (Video)
Farid Osmanov - Financial technologies in the Central Bank: today and tomorrow
Hakan Tatlici - Future of Payments
Kadir Yuceer - Digital onboarding
Kirill Ovsiannikov - Developing of acquiring business at high-competitive market: Case of PASHA Bank
Maciej Kostro - New payment services, introduced by PSD2 - their impact on business models and increased risks
Micaela Vernmark - Transforming corporate banking experiences with virtual accounts: benefits for banks and businesses
Mikhail Alekseev - Solanteq - one true step to payments high tech
Nader Afifi - Making digital Business a reality with modern solutions
Svetlana Sergeeva - Acquiring – new challenges and new solutions
Denis Novikov - Digital Banking: How to build a hybrid team for innovative projects
Tatyana Zharkova - Development of financial technologies in Russia – Fintech Association
Tokuro Uhara& Antony Knode - Imperatives for Integrating Cryptocurrency with Fiat Currency in Azerbaijan
7 november:
Alikhayyam Guluzade - The role of regtech in digital age: risks and opportunities
Diana Feld & Daniil Solovyev - Compliance automation and current trends in financial fraud
Farid Isayev - Cashless payments: instrument of struggle with shadow economy and the driver of the banking sector development
Gokhan Gözütok -We Prevent Financial Crime by World Class Analytics and Local Experience
Gunel Sadieva - E-commerce and digitalization of economy. Current tax regulations and tax challenges, experience of other countries
Habib Abbasov - E-commerce: international experience and innovations – judicial framework
Hiro Takahashi - Multiple Layered Security Analyses Method for Cryptocurrency Exchange Servicers
Otabek Sidikov - Managing Correspondent Banking Risks
Pavel Shoust - Main trends in AML/CFT regulation – how FATF and Risk-Based Approach change the AML/CFT landscape
Sahib Hasanov - Digitalization in KYC policy
Seymur Muradov - Impact of regulations on lending
Sundeep Tengur - Future-proofing Fraud Prevention using Advanced Analytics
Tural Feyzullayev Legal aspects of supervision in digitalization
Tural Mammadov - Opportunities provided by the application of the "Electronic enforcement" information system
Vladimir Remyga - Digital: Governance, Risk and Compliance
Volker den Ouden-1 - Embargoes I: Status Quo and Trends
Volker den Ouden-2 - Embargoes II: Russia and Iran