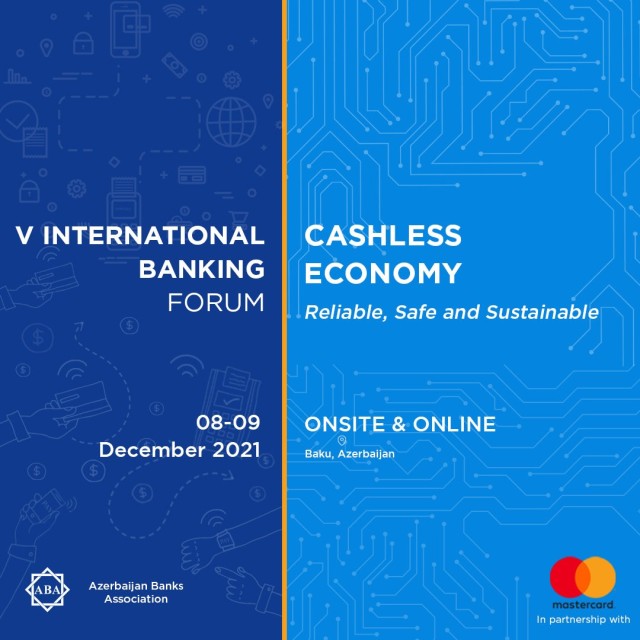 V INTERNATIONAL BANKING FORUM will be held in Baku
ONSITE - V INTERNATIONAL BANKING FORUM (IBF) - will be held in Baku, Azerbaijan on December 8-9
We are exited to announce that V INTERNATIONAL BANKING FORUM (IBF) - will be held in Baku, Azerbaijan on December 8-9, in partnership with MasterCard. The event will be onsite with sessions and exhibition area, besides we will have online speeches and online participation opportunity.
The subject of the Forum is "CASHLESS ECONOMY: RELIABLE, SAFE AND SUSTAINABLE".
We all miss real events, where we meet you face-to-face, feel the real atmosphere and unique moments of our onsite Forums. Now, its back again.
Two day event is one of the two annual events organized in Baku and is the most famous finance and banking event in of the region. Go to the link to see all our events: https://www.gbmevents.az/en/events
Having quite a history the Forum proved itself as an excellent platform where all the stakeholders meet, present new ideas, experiences, products, learn from each other, network and dive deeper into financial technologies, digitalization, payment ecosystem. We are inspired that there are always new opportunities for partners and participants there at the event.
The IBF and FINTEX SUMMIT are only finance events in Azerbaijan at which bank CEOs are all present. The Forum brings together senior management of regulators, fintech, associations, representatives of international financial institutions, local Embassies, academician, well known companies, decisionmakers and influencers.
We will discuss together the following topics:
Digital Bank
Banking on Every Device
Platform Banking & Digital Ecosystems
Innovative Payment Ecosystem
Digital Currencies: the way to go for Central Banks
Blockchain Technology: Disruptive Projects in Financial Services
Evolving Ecommerce: Increasing Demand
Focusing on Compliance
Remote Banking: Secure Authentication
New Normal: New Cybersecurity Trends
---
Please take note that all participants must have COVID passport.
Here is the entry rules to the Republic of Azerbaijan: https://www.azal.az/en/offer/575
Will be very glad to see you with us.