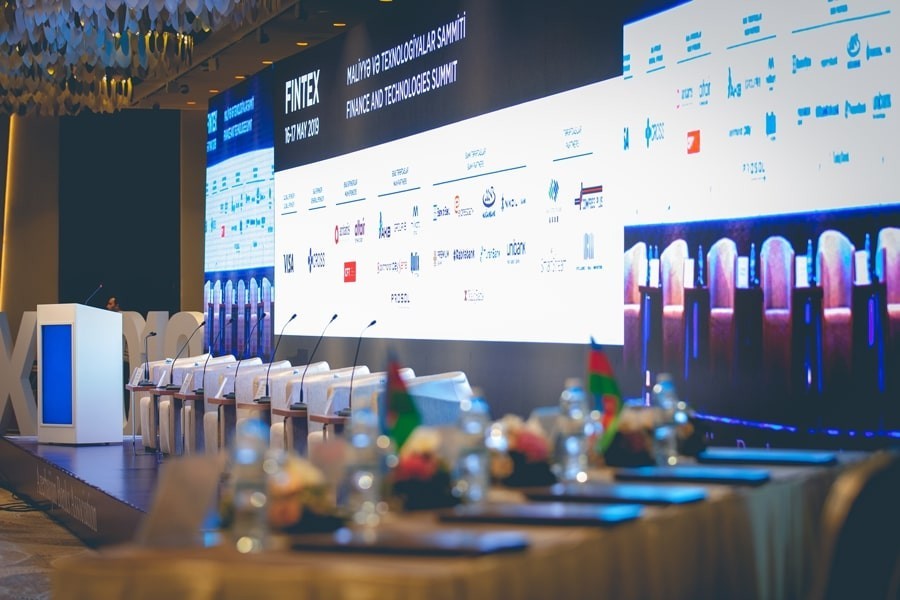 "FINTEX SUMMIT" was completed succesfully
The "FINTEX SUMMIT – Finance and Technology Summit: New Trends in Banking and Payment Ecosystem: Innovative Solutions, Fintechs and Security", organized by the Azerbaijan Banks Association, was held at Boulevard Hotel on May 16-17, 2019.
On May 16-17, within the framework of "Finance and Technologies" week, the Summit named "FINTEX SUMMIT – Finance and Technology Summit: New Trends in Banking and Payment Ecosystem: Innovative Solutions, Fintechs and Security" organized by Azerbaijan Banks Association, with the support of Central Bank, Financial Markets Supervision Authority, Ministry of Transport, Communications and High Technologies and Center for Analysis of Economic Reformsand Communication has been completed.
In this event, attended not only by relevant government agencies, banks and organizations represented in payment ecosystem, but also by representatives of international financial institutions, local and foreign public organizations, as well as embassies of foreign countries in Azerbaijan, delegates of up to 100 international organizations and prestigious companies from USA, Japan, China, India, European Union and Commonwealth of Independent States participated.
The Minister of Transport, Communications and High Technologies of the Republic of Azerbaijan, Ramin Guluzade, announced the opening of the summit.
Then, First Deputy Chairman of the Board of the Central Bank of the Republic of Azerbaijan Alim Guliyev, Acting Chairman of the Management Board of the Financial Markets Supervision Authority of the Republic of Azerbaijan. Ibrahim Alishov, Chief Executive Officer of Economic Reform Analysis and Communication Center Vusal Gasimli, President of Azerbaijan Banks Association Zakir Nuriyev, Chief Executive Officer of European Banking Federation Vim Mijs and Vice President of VISA, Head of Solutions for CIS and Southeastern Europe Christina Doros gave a speech.
The Summit consisted of 4 panels:
"Tradition vs. new tech: the changing face of banking – the role of fintechs";
"Payment ecosystem: new players, new solutions";
"Security and risk";
"Modern technologies for collecting overdue debts".
Participants and speakers included delegates of "European Bankers Federation", "Russian Central Bank", "The Society for Worldwide Interbank Financial Telecommunication (SWIFT)", "Visa Inc.", "Cross LLC", "Antaris", "Altair", "Financial Technologies Center (CFT Group)", "Azerbaijan Credit Bureau", "Group-IB", "Millikart Group", "PortManat", "Yandex Money", "Paysera", "Qulix Systems", "Prosol", "Associated-Trader", "Compass Plus", "IBM Corporation", "Smartstream", "International Finance Corporation", "GBM", "Turkey's Interbank Card Center", "Colvir Software Solutions", "Paynet", "LOGIX", "QIWI", "PricewaterhouseCoopers LLP", "Ernst & Young", "KPMG", "Qmeter", "Microsoft", "FintechPark", "KOOPHub", "IDNT", "Algorithm", "PRIME1", "Adecco", "Alfardan Group", "Prozorro.Sale", "Paytweak", "MasterCard Worldwide", and "American Express international card organizations", as well as "Deloitte", "Moody's Investors Service", "Yandex.Money", "Financial Service Bureau", "Turkish Capital Markets Association", "Electronic Government Development Center", "RBK Money", "SYS Centrum" LLC, "NSPK", "CGEIT, CISA, CISM, CRISC, GTP LP" Group of companies, "MSSP", "DA Collection", "Easysms", "FICO Tonbeller", "MFMS", "Figensoft", "Bimtek", "Alliance", "Bankex", "TEB - BNP Paribas", "East Nets", "Sender" and other influential companies represented in the payment ecosystem, in addition bank partners, such as "Bank of Baku", "Expressbank" OJSC, "Muganbank" OJSC, "NikoilBank" OJSC, "Premium Bank" OJSC, "Rabitabank" OJSC, "TuranBank" OJSC, "Unibank" CJSC and "XalqBank" OJSC.
---
It should be noted that, during the summit there was opportunity for startups to display their projects inside the area reserved for them.