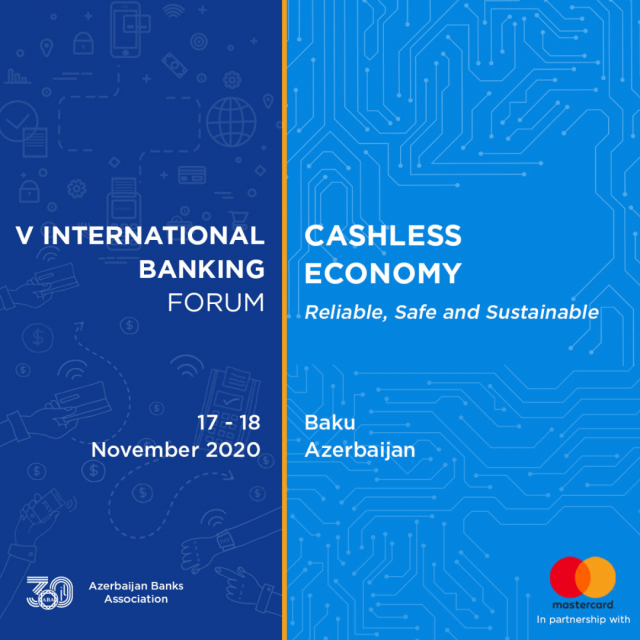 "V INTERNATIONAL BANKING FORUM" WILL BE HELD IN BAKU
"V International Banking Forum" is one of the two biggest annual events organized by the Azerbaijan Banks Association.
Challenged by unprecedented and unforeseen, the whole economies, financial systems, banking, payments and fintech ecosystem are all experiencing the flash of disruption and change. The ones which are sophisticated in terms of technology, digitalization adapt smoothly, break the bowl and start sailing. The only way to survive is to stay connected, collaborate, transform and move faster than ever.
To reconnect and discuss the new reality of the financial ecosystem, to elaborate on what is waiting ahead V INTERNATIONAL BANKING FORUM (IBF) is planned to be held in partnership with MasterCard on November 17-18, 2020, in Baku, Azerbaijan.
The subject of the Forum is "CASHLESS ECONOMY: RELIABLE, SAFE AND SUSTAINABLE".
We hope for the best and keen on having real-life event, meet you face-to-face, feel the real atmosphere and unique moments of Forum. Nevertheless, we are flexibly and prepared for the plan B and can switch to online event and come together no matter where you are.
The event is held in partnership with Mastercard and supported by the Azerbaijan Banks Association, Central Bank, Ministry of Transport, Communications and High Technologies and Center for Analysis of Economic Reforms and Communication.
Recall the moments of IBF 2019: https://www.youtube.com/watch?v=BpK-TeF22-8&feature=emb_title
Two day event is one of the two annual events organized in Baku (another one is an FINTEX SUMMIT organized each year in May: https://www.gbmevents.az/en/events ), and is the most famous finance and banking event in of the region.
Having quite a history the Forum proved itself as an excellent platform where all the stakeholders meet, present new ideas, experiences, products, learn from each other, network and dive deeper into financial technologies, digitalization, payment ecosystem. We are inspired that there are always new opportunities for partners and participants there at the event.
The IBF and FINTEX SUMMIT are only finance events in Azerbaijan at which bank CEOs are all present. The Forum brings together senior management of regulators, fintech, associations, representatives of international financial institutions, local Embassies, academician, well known companies, decisionmakers and influencers.
We will discuss together the following topics:
Banking: Preparing for the next decade;
Innovate payment;
Banking on every device;
Platform Banking & Digital Ecosystems;
Evolving Ecommerce: increasing demand;
Robotics and AI: the way forward in banking;
Unique cybersecurity challenges;
Regulations in the context of uncertainty;
Focusing on Compliance;
Secure authentication.
---
Within the Forum "Cashless Society Days" will be announced and different related side events (meetups, seminars, competitions etc.) will be organized too.